Monsoon Estates is a traditional craft coffee roastery based near Stratford upon Avon, hand roasting small batches of coffee in a relentless quest to find the perfect cup of coffee. "We know it's not possible of course, but it's a journey of discovery and we're always getting closer".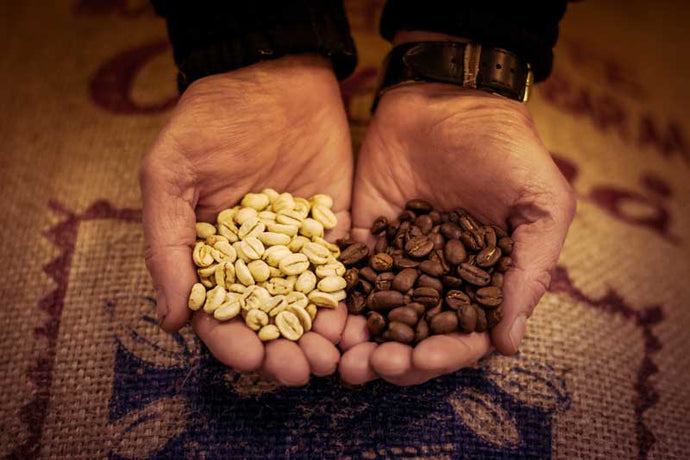 In search of a good cup of coffee
Chris, my other half (or Mr Monsoon as he is affectionately known) and I developed our love of good coffee whilst living in Europe and later Australia. On our return to the UK we did struggle to find a good cup. We ploughed through all the supermarket stuff and then onto speciality coffee suppliers (the high street kind of shops) and then on line where we found some better coffees.
We then actually started roasting our own coffee beans. It was strange really how we first started as a little business. Our dear friend Shelley asked us if we would attend a charity sale she was organising and bring some of our coffee. We had such an enthusiastic reception that we thought maybe we could do this as a business. One of the people who bought coffee from us that day still buys from us now and it is only fitting that he get a mention here as he was our first real customer. Steve M thanks for buying your Malabar from Monsoon Estates.
Chris then went to Turkey to buy our first Toper roasting machine and off we went. Working from home and selling our coffee at local markets was a great way to get started. We attended lots of charity functions and fairs during our first year but as we've grown there isn't much time for those any more.
We also hosted a few coffee tasting events; great fun and a wonderful way of getting our product in front of new people. Our local MP Nadhim Zahawi kindly arranged to deliver some coffee to David Cameron for us. That was a bit of fun and great publicity. It was such a bonus to receive a letter of thanks from David himself. I must frame it one of these days.
It wasn't long before another roaster had to be purchased. We looked around and were close to buying a German Probat. The problem was the size just wasn't going to fit where we wanted to put it. There was also a wait of about 6 months. We went back to Turkey and bought another Toper, just a bit bigger this time. It fitted perfectly where we were working.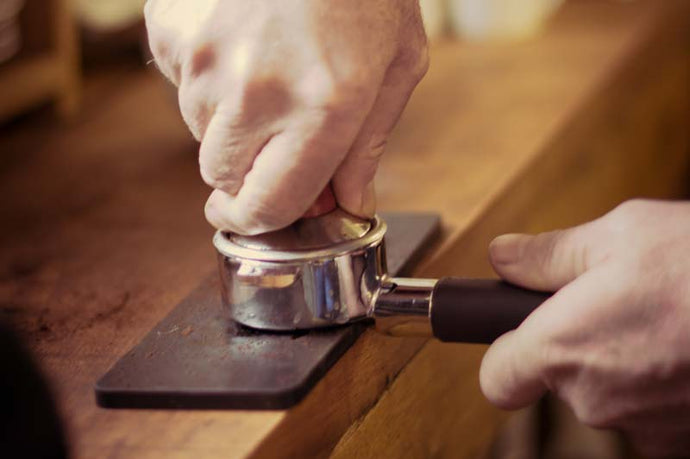 Our First Award
In August 2012 we had a surprise in the post in the form of a Great Taste Award for one of our coffees. It was a huge surprise and a great honour for us, winning 2 gold stars for our Nicaraguan Maragogype coffee. Commonly known as elephant beans because of their large size the coffee has a lovely rich and nutty taste. Medium roasted it is great for filter or cafetiere although some people like it as a sweeter, brighter espresso.
Later that month we went to The States. We had a great time in New York and then on to the west coast in and around San Francisco. Most of our time was spent researching coffee and coffee culture in the US and I was also really lucky to do a course at Coffee Boot Camp with Willem Boot just outside San Francisco. I met some really lovely people there, learned heaps and drank loads of coffee. We visited some amazing combined coffee shop and roasteries there; we'd love to do that one day.
One thing we noticed was that the roast style for lots of coffee was much lighter than we go for with ours but they do drink a lot of drip (filter) coffee. This brew method is great for brighter fruitier coffees but for my palate not so wonderful for espresso. It is a personal taste thing and I've had lighter roasted espresso where it is so bright it is almost sour (sucks your cheeks in).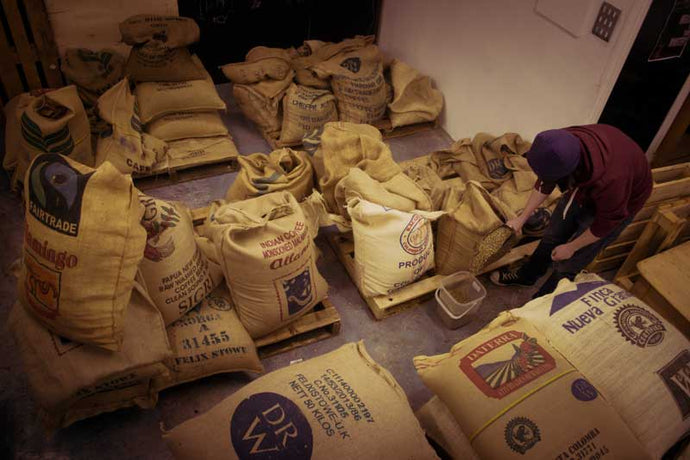 A New Roastery
September 2012 saw the start of new things for us in the form of a new roastery. Gosh how exciting it was (and still is). We leased a barn conversion on the Alscot Estate about 3 miles from Stratford upon Avon. It is in the most beautiful location and has a really good vibe. We had to spend a few weeks cleaning and painting it but moved in and completed our first roast in November. We loved our new home, it was great to have some space after our previous cramped conditions.
Late in 2013 we took delivery of a brand new Probat coffee roaster which was soon installed in our roastery. Even though we had to wait for the gas man to get it plumbed in! I still switched it on though and polished it and generally fell in love with it! It's a fantastic machine and has made it easier to keep pace with demand.
Everything we had heard about Probat pointed to a more controlled and gentle roast and it seems to be the case. Using the Probat I had some wonderful results with my American and African coffees and soon moved on to the darker Asian roasts. I always enjoyed the roasting process but somehow using the Probat I was more excited than ever.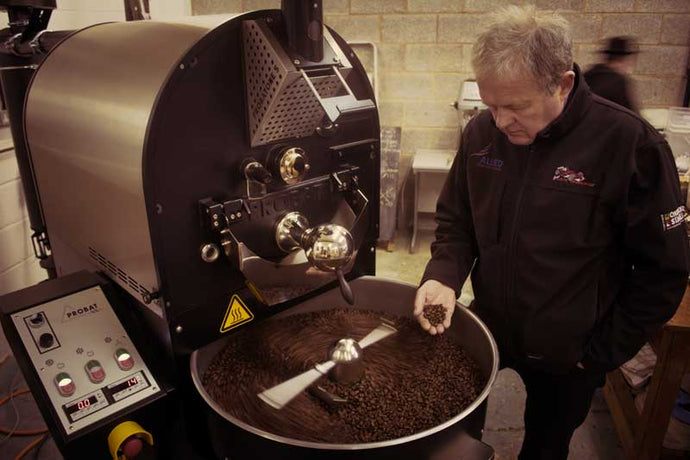 The New Probat
All that coffee meant that in 2017 we installed a second Probat roaster to help us keep our customers in coffee. We're also very happy to have the help of Ailie, Jonny, Diane, Siena and Lynn to help make sure your orders get to you on time and so I can give all my attention to the roasting.
So we continue to explore the world of coffee for new and interesting beans, continue to learn about the roasting process and we still sell our coffee at the weekly markets in Stratford and Warwick so why not come along and introduce yourself.
Great Taste Awards
Since our very first Great Taste Award in 2012 we have managed to pick up at least one award every year since. It's great to know that we have been able to maintain our standards whilst increasing the quantity of beans that we roast.
2023 - Rwandan Kinini

star 3

2023 - Colombian Tres Dragones

star 2

2023 - Ethiopian Gagari Gutiti Supernatural

star 2

2023 - Costa Rica Hermosa Tarrazu

star 2

2023 - Guatemalan Huehuetenango Todosantarita

star 2

2023 - Ethiopian Yirgacheffe Koke Washed

star 2

2023 - Papua New Guinea Sigri

star 1

2023 - Vernal Vibe

star 1

2023 - Swiss Water Decaf Espresso Blend

star 1

2023 - Ugandan Kalingwe Natural

star 1

2022 - Ethiopian Dumerso

star 2

2022 - Ethiopian Koke Anaerobic

star 2

2022 - Ethiopian Sidamo Nigussie

star 2

2022 - Colombian Juanambu

star 2

2022 - Papua New Guinea Sigri

star 1

2021 - Rocko Mountain

star 3

2021 - Sumatra Mandheling Decaf

star 3

2021 - Monte Cristo

star 2

2021 - Sumatra Mandheling

star 2

2021 - Colombian Granja La Esperanza Tres Dragones

star 2

2021 - Rwandan Kinini

star 1

2021 - Thai Doi Chaang

star 1

2020 - PNG Sigri

star 2

2020 - Vernal Vibe

star 2

2020 - Ethiopian Deri Kocha

star 2

2020 - Shakisso

star 2

2020 - Kenyan Jungle Estate

star 2

2020 - Ethiopian Kochere

star 1

2019 - Ethiopian Deri Kocha Guji

star 3

2019 - Ethiopian Dumerso

star 2

2019 - Will's Winter

star 1

2019 - Ethiopian Yirgacheffe Kochere

star 1

2019 - Ethiopian Hama Natural

star 1

2019 - Nicaraguan Maragogype

star 1

2019 - Colombian Sierra Nevada

star 1

2019 - Monsoon Estates Cold Brew

star 1

2018 - Monsoon Espresso

star 2

2018 - Guatemalan Guayaba

star 2

2018 - Ethiopian Sidamo Shakisso

star 2

2018 - Ethiopian Sahlaitu

star 3

2018 - Ethiopian Hama

star 2

2018 - Espresso Decaf

star 2

2017 - Vernal Vibe

star 1

2017 - Swiss Water Decaf Brazil

star 1

2017 - Ethopian Dumerso

star 1

2017 - Colombian Honey Process

star 2

2016 - Winter Blend

star 2

2016 - Monsoon Espresso

star 3

2015 - Papua New Guinea Enorga

star 1

2015 - Organic Ethiopian Yirgacheffe

star 1

2015 - Daterra Sweet Collection

star 1

2015 - Daterra Bourbon Collection

star 1

2014 - Vernal Vibe

star 1

2014 - Papua New Guinea blend

star 1

2014 - Ethiopian Yirgacheffe

star 2

2014 - Espresso blend

star 2

2013 - Ethiopian Yirgacheffe

star 1

2012 - Nicaraguan Maragogype

star 1