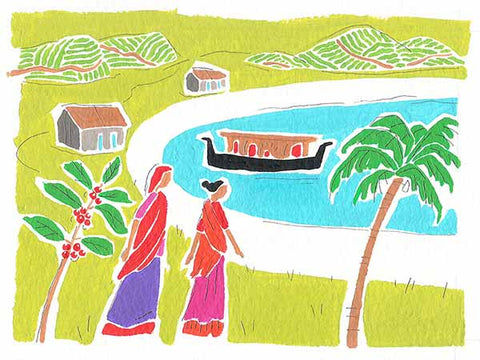 Monsoon Malabar
Dark, bold, pungent and spicy flavours
£6.00
It takes it's name from the Malabar region in Southern India. The harvested beans are stored in warehouses awaiting the monsoon. When the monsoon arrives the warehouse doors are opened and the beans are exposed to the wind and rain whereupon they enlarge dramatically.
This process helps give them their unique flavour characteristics, which are bold, pungent and spicy. It is a dark roast, for those who like deep, strong, musty flavours.  The process makes them somewhat inconsistent and the coffee may vary from batch to batch.
Please note that this roast is taken well into second crack and oils have already coated the beans. It will be really oily after a few days. We actually think this coffee is at its best about five days after roasting.  
As an espresso, pour this one short (don't allow so much water through), it will be more syrupy and intense with less bitterness! It is definitely one to try and makes an amazing milk based coffee. Our favourite drink with this coffee would be a flat white although I find 2 shots in a small cup just a bit too much so I'm about 1 1/2 shots with milk! Mr Monsoon on the other hand likes 2 full shots and poured short!
| | |
| --- | --- |
| Process | Monsoon |
| Altitude | 950m |
| Harvest | December - January |
| Varietal | Kent |
| | |