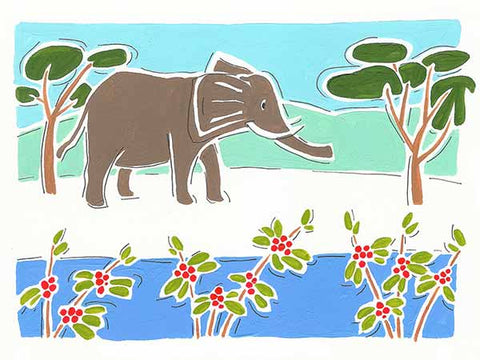 Ethiopian Koke Natural
White grape, berries and hints of chocolate
£8.50
A beautiful clean, natural Ethiopian suitable for all brew methods!
Located just on the outside edges of Yirgacheffe town, in the Gedeo zone, the area has great growing conditions as well as being notorious for producing classic 'Ethiopian' coffee. The reputation is bolstered by the first washing station in Ethiopia being in Yirgacheffe, introduced back in the 1970's. Coffee is typically grown on a very small scale in the gardens of producers, where it is intercropped with other subsistence crops such as Enset, a crop low in vitamins and minerals, but calorie dense. This is often on a small plot of land adjacent to the home; the area has just 7.74% of it's population as living in urban settings.
Wolisho, Dega and Kudhume are three varietals that grow locally in the Gedeo Zone. Most farmers grow at least two of these varieties, though there is little documentes history on these. IT is not yet understood if these are specific varieties or part of a larger family of coffee. Other zones also have these varietals under slightly different names, so it is not uncommon to find a small variance in spelling.
Kudhume (Kudhumi, Kurume) has a small bean size and is known for disease resistance, also popular in the Guji. Dega sits in the middle with average bean size and tree height, whilst Wolisho (Walichu) exhibits a larger bean size. The names stem mainly from local indigenous trees – Dega is commonly used as firewood and has a reputation for it's fragrant characteristics (though could also come from a linguistic term in Amharic relating to altitude and temperature that coincide with it's terrain). Kudhume relates to the Kurume tree that produces small fruit with a good yield – the coffee varietal displays the same characteristics, and Wolisho resembles the characteristics of the tree too, being larger fruit, but an inconsistent yield year after year.
This coffee suits all brew methods but it really does depend on your personal taste! 
| | |
| --- | --- |
| Process | Natural  |
| Altitude | 1870 - 1900 m |
| Harvest | November - January |
| Varietal | Dega, Kudhume, Wolisho |
| Region | Yirgacheffe |